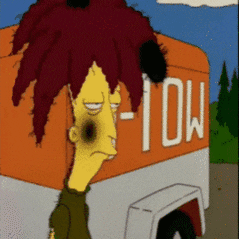 Without a marketing plan, you're lost running around, sometimes tripping over a pot of gold, sometimes stepping on a rake like Sideshow Bob in the Simpsons. But if you map out your marketing efforts, you can step lightly around those rakes and quickly find the pot of gold.
"But what goes into that plan?" you say? "I don't want to be rake-handle-faced Sideshow Bob!" you say. Well it's time to get through these five Ks of the marketing plan and map out your path to marketing gold.
The 5 K's of the Marketing Plan
Know your business

Know your ideal customer

Know what you want

Know your strategies and tactics

Know your budget
These five K's can span several pages, or they can fit on one standard 8.5 x 11. I started with one page, and if you don't have a marketing plan yet, you might want to consider one page too. I even started with a half-filled out one. Sometimes drilling down to the perfect demographic, for instance, will take a while.
Know your business
This is your current situation, what your business provides, who your competitors are, what you're good at and what you're not so good at. You could consider this a basic SWOT analysis (Strengths, Weaknesses, Opportunities, Threats). Be a little harsh on your business here, but give it the credit it deserves, too. Note what you plan to do in the future, usually a year, but you can think big. next 3, 5, 10 years.
Know your ideal customer
Who is your target demographic? Consider age, location, income, etc etc etc. A real estate group that targets vacation home purchases is killing it on Facebook with live video, multiple posts and multiple follows per day. This will pay pay off in the long run, but to target today's affluent vacation home purchaser, we're starting to explore more traditional media channels.
Inc has more here
.
Know what you want
Set your goals for your marketing. Whether that's increasing awareness, improving your conversion rates of incoming leads, or improving return customers, your marketing will be responsible for that. Figure out the key needles you want to move and write em down. McKinsey explains this funnel or "
customer decision journey
" quite well.
Know your strategies and tactics
Strategies are big-picture overarching plans, like "become the leader in the local marketplace for vacation rental property purchases." Tactics are the actions you'll take to make those strategies work, like "develop a lead generation machine by driving people in to my email subscription form through all my marketing channels."
Know your budget
As the old adage goes, you have to spend money to make money. But that doesn't mean this is an empty expense. One of my favorite marketing books, Guerrilla Marketing by Jay Levinson, says a Guerrilla Marketer doesn't spend money on marketing, he/she invests in marketing. You should be investing in a return. Taking a realistic look at your budget will help you determine where to best invest that budget to get a return. Will consistent advertising in the local paper bring your biggest return, or would a periodic radio ad do you good? Or should you invest that money in paying someone to build several landing pages to determine which produces the best return and continue to refine that until your lead generation machine runs like a well oiled... machine.
Getting these five Ks on paper will help you make sense of your marketing and will help start to produce more through your efforts. Soon the ROI will beg to run in your front door.
Want help with that marketing plan?
Contact us today
!